Treating Heel Pain in Upper West Side, New York, NY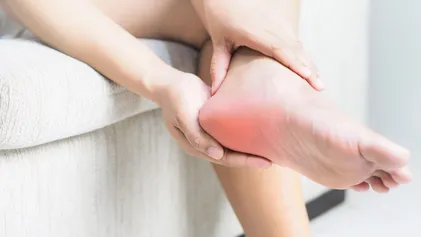 Are you living with painful or persistent heel pain due to plantar fasciitis? Are your symptoms not improved with rest, pain relievers, and home care? Some people deal with chronic or recurring plantar fasciitis that may not respond as effectively to at-home treatments. If this is the type of heel pain you're dealing with our podiatrists Dr. Jennifer Fung-Schwartz Youngewirth offers laser therapy to treat more severe and stubborn cases of heel pain.

Low-Level Laser Therapy for Heel Pain
If you've been diagnosed with chronic heel pain, chances are good that our foot and ankle specialists will discuss whether or not laser therapy is the right choice. After all, this FDA-approved non-invasive therapy is a great way to trigger the body's natural healing processes by boosting blood flow to the area. This regenerative treatment can also reduce inflammation by repairing the damaged plantar fascia. Of course, you don't have to have chronic heel pain to benefit from low-level laser therapy. We also treat acute plantar fasciitis cases with laser treatment.
A Natural Approach to Treating Heel Pain
Pain relievers may manage symptoms but won't treat the underlying issue and injections can be invasive and uncomfortable. Laser therapy offers our patients an effective but painless way to treat stubborn plantar fasciitis. Not only does it speed up the healing process but it also reduces severe and persistent pain. Plus, there are virtually no side effects with laser therapy. If you are looking for a quick, cost-effective way to finally treat your plantar fasciitis then laser therapy may be a fantastic option for you.
How Laser Therapy Works
Light energy is delivered to the plantar fascia through a handheld device, which does several things:
Stimulates the repair of damaged cells
Increases blood flow to the area, which delivers oxygen and vital nutrients to facilitate healing
Increases circulation
Reduces swelling and pain
This simple outpatient therapy only takes about 15-30 minutes and you can go home immediately. Depending on the severity of your symptoms, most patients experience relief after just one session; however, additional sessions may be recommended to provide optimal pain-relieving results.
Are you living with plantar fasciitis? Want to find out if laser therapy is right for you? We are proud to provide comprehensive foot and ankle care with Jennifer Fung-Schwartz, DPM in New York, NY. To learn more about laser therapy, call us at (212) 678-2333.